Buy gaming laptop online-Tier 2 Gaming laptops under $1500
With their compact design, and powerful components, colorful design and premium prices, gaming laptops are a different kind of monster than most of your mainstream notebooks. And they need to be if you like to play demanding games like Fortnight, The Witcher 3: Wild Hunt and Grand Theft Auto V, explore virtual worlds with either the HTC Vive or Oculus Rift and enjoy smooth game play on high frame rates.
They're also a different monster when it comes to design, offering chassis with more strong lines multi color keyboards.
Depending on your budget, you will want to "By gaming laptops online" suitable to your lifestyle and the games you like to play, you can easily end up spending anywhere from $800 to $5,000 on a system that's likely to weigh between 4 and 20 pounds.
To find the right laptop, follow these tips and advice below.
Don't buy a gaming laptop for low-end titles. Like World of Worldcraft or Candy Crash. These games can easily be supported by an integrated graphics card.
Avoid touch screen. They're more expensive and drain the battery.
17-or-18-inch laptops are typically more powerful, but the least portable. While 13-, 14, and 15-inchers are easier to carry but often lack higher-end components.
Make sure the keyboard is comfortable. If you can go and check it out before you buy!
Ditch the M. Thanks to Nvidia's 10-series GPU, Mobil chips are a thing of the past these new GPU are faster, more powerful and VR-ready.
Avoid laptops with a low-res display. (less than 1920 x 1080)
Get solid state storage. Invest in an SSD for faster game installs and load times.
Get a laptop with at least an Intel Core I7-6700HQ processor, an Nvidia GeForce GTX 1060 GPU and a HDMI 1.3 port if you want to be able to enjoy V/R games with an Oculus Rift or HTC Vive.
Tier 2 gaming laptops sub $15000-These laptops are advanced in design
When it comes to quality and design, I'm a huge laptop fan. So just how much laptop can you get if you are on a budget? While its true that we get what we pay for, you'd be delighted to learn what $1500 can do for you. Here are 11 picks to choose from I think you will be surprised of the quality! Here are 11 picks of 2019
1.
MSI GL73 8RD-031 Full HD Performance Gaming
This laptop is the best MSI GL73laptop available for at about $1300. The excellent and smooth look of these laptops is just one of its many great qualitys. With its 17.3 inch display and Nvidia GTX 1050 for under $1500. The more powerful GeForce GTX 1050 GPU delivers about 50% better performance than the 960M GPU.
The MSI laptops are designed to stay cool when under heavy gaming, which is a plus for any well-made gaming laptop. MSI packed the GL73 with cooler boost 4 which allows you to stay in the game longer without running into overheating issues.
There's 7 heat pipes within this laptop that do a top rate job of funneling out all the heat. Another feature highlights on these laptops is the gaming grade keyboard which is put together by steel series. Backl-ighting, 1.9mm key travel distance, and anti ghosting makes for great mechanical design out to date.
I G R Snapshot:
Display: 17.3″ Full HD eDP Non Reflection 72% NTSC | Operating System: Win 10 Multi-language

Processor: Core i7-8750H Hexa-Core (6 Cores) 3.9 – 4.1GHz

Graphics: NVIDIA GeForce GTX1050Ti 4G GDDR5

Memory (RAM): 16GB (8G*2) DDR4 2400MHz 2 Sockets; Max Memory 32GB | Storage: 128GB M.2 SATA + 1TB (5400RPM)

Special Features: Black | Intel 9560 Jefferson Peak (2×2 802.11 ac) | QCA8171 | Steel Series Single backlight with Anti-Ghost key+ silver lining | USB 3.1 Gen 1 Type C *1
2.
Acer Predator Helios 300 Gaming Laptop
Acer Predator Helios 300 Gaming Laptop are a well Known for its high-end design. So if you are looking for value in a gaming laptop you are in the right place. Gaming laptops at this price are good for the hard core gamer at bast a GTX1660, and it also has has two NVMe SSD slots which support RAID 0. RAID 0 is using 2 disk to store data in a way that makes fetching of data faster.
This laptop Also offers 512 GB of max capacity on the MVMe slots. In this day new games require each about 50GB of storage space so you can have like 6 to 8 (some specs is required by the operating system).
I G R Snapshot:
8th Generation Intel Core i7-8750H 6-Core Processor (Up to 4.1GHz) with Windows 10 Home 64 Bit

NVIDIA GeForce GTX 1060 Overclockable Graphics with 6 GB of dedicated GDDR5 VRAM

15.6″ Full HD (1920 x 1080) widescreen LED-backlit IPS display (144Hz Refresh Rate, 300nit Brightness & 72% NTSC )

16GB DDR4 2666MHz DRAM Memory & 256GB PCIe NVMe SSD | Extra empty accessible slot for 2.5 inch hard drive or SSD

Gigabit Wi-Fi |Backlit Keyboard | USB 3.1 (Type C) | Dual All-Metal AeroBlade 3D Fan Cooling | Metal Chassis.Battery Capacity:3320 mAh

Up to 7-hours of battery life
3.
Asus ROG Strix Scar Edition GL703GE
The Asus GL703GE With more processor performance than ever thanks to Inter's new Core i7-8750 CPU. The coffee lake chip is a step up for processor-reliant tasks, also the 120 Hz display has been improved. Coffee lake has arrived, and with new processors comes new changes .
Intel's six-core Core i7 -8750H replaces the Core i7-7700HQ. The new processor (CPU) adds two more cores and two more threads. Naturally, Asus is among the first to push Intel's new silicon with their ROG line of gaming laptops. The GL703GE is reflective of what is sure to become the standard configuration for mid-tier gaming laptops for the year (until Nvidia's  new Volta GPUs hit the market) with 50% increase in processor performance and core count the GL703GE is essentially retooling it's system.
I G R Snapshot:
8Th-gen Intel Core i7-8750H Processor. 6 Cores, Turbo up to 3.9GHz

Powerful gaming performance with GTX 1050 Ti 4GB graphics

120Hz 17.3" Full HD Wide view display. Ultra-fast 3ms response time

16GB DDR4 2666MHz RAM | 256GB SSD + 1TB HDD | Windows 10 Home

Asus Aura Sync customizable 4-zone RGB Gaming Keyboard scar Edition design with Kevlar pattern on palm rest

Gigabit wave 2 Wi-Fi 5 | 2×2 802.11AC Wi-Fi with speeds up to 1.73Gbps

Anti-dust cooling System | USB 3.1 Type-C, HDMI 1.4, Mini DisplayPort (*usb transfer speed may vary. Learn more at Asus website)
4.
ROG Strix SCAR II Gaming Laptop
This Asus ROG Strix Scar II GL504GV, With the latest hardware  like GeForce RTX 2060 graphics.  With this refreshed RTX laptop, there hasen't been a significant change to the design on the ROG Strix or most of the internal hardware. The primary storage option bumped up a tier across the board, so  where the base model got a 128GB SSD, that's now up to 256GB, and so on. In terms of the design, with its brushed aluminum lid, most of the laptop uses plastic, with a touch of coating applied around the keyboard. This carbon design, and Camo print, you may not appreciate the look but Asus loves to do this.
Yep, there's  RGB, too. With the Turbo fan mode, longer workloads it will stand up to 10% longer multi-threaded workloads. This laptop can sustain higher clocks for longer. When it comes to gaming, fabulous product.
I G R Snap shot:
Geforce Fortnite bundle – offer valid through may 22, 2019. For a limited time, purchase a ROG device with qualifying GTX graphics and get the GeForce Fortnite Counterattack set!

Nvidia GeForce GTX 1060 6GB GDDR5 | powerful gaming performance

Tackle any task with the Intel Core i7-8750H (up to 3.9GHz) processor

17.3" high refresh rate 144Hz IPS-Type Display | Slim 5mm Bezel and 3ms response time gaming laptop

16GB DDR4 2666MHz RAM | 256GB PCIe NVMe SSD + 1TB HDD | Windows 10 Home

Gigabit wave 2 802.11AC Wi-Fi | Quad antennas. Rog range Boost Technology provides up to 30% wider coverage than dual-antennasbit Wi-Fi with quad antennas. Rog range Boost Technology provides up to 30% wider coverage than dual-antennas

Hypercool Pro thermal system | Dual 12V fans, Triple radiators and heatsink, anti-dust technology

Customizable ASUS Aura RGB Gaming Keyboard, RGB ROG logo, and light bar for ambient lighting effect
5.
HP Pavilion Gaming Laptop,15.6"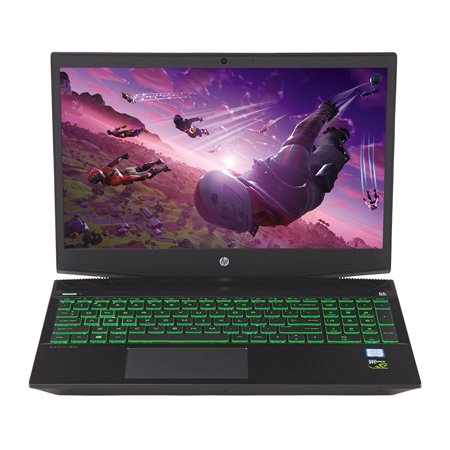 The Pavilion 15 take some replications from HP's other lines. There are many similarities in it's design from both the Omen and the Pavilion laptops, and the results are somewhat in the middle. Internally the laptop is a mid-range laptop, its Intel's Core i7-8750 pairs well with the Nvidia GeForce GTX 1060 Max-Q.
The mid-tier gaming market has never been more competitive. MSI GV62, the Dell's G7, Acer Helios 300, and the Asus FX503VM, Lenovo's Legion Y530, all are strong contenders in this arena. Each of these makes its own sacrifices to hit a lower price-point, and that is why i think this laptop is great contender on the gaming laptop platform.
I G R Snapshot:
Processor: 8th Generation Intel(R) Core(TM) i7-8750H Processor, 6-Core, 2.2GHz up to 4.1GHz.

Video graphics: NVIDIA GeForce GTX 1050 Ti (4 GB GDDR5 dedicated).

Display: 15.6-inch diagonal FHD IPS anti-glare micro-edge WLED-backlit (1920 x 1080) with 144Hz refresh rate.

Memory: 16 GB DDR4-2666 SDRAM (not upgradable).

Hard drive and solid-state drive: 1 TB 7200 RPM SATA hard drive + 128 GB PCIe NVMe M.2 Solid State Drive.

Battery life: Up to 9 hours (mixed usage); up to 8 hours and 30 minutes (video playback); up to 7 hours (wireless streaming).

Dimensions and weight (unpackaged): 14.40 inches (W) x 10.01 inches (D) x 1.00 inch (H); 5.18 pounds.

Operating system: Windows 10 Home.
6.
Dell Inspiron i7559-5012GRY 15.6
Dell's Inspiron i7559-751 GRY is first and foremost one powerful piece of portable computing technology and serves up one of the best processors  in the market as a serious performance promoter. Other specs for storage, RAM and CPU power complete this picture to present a laptop that's specifically a notch above the rest in this market. thus, if you are looking for a tight machine with some kick and solid specs, the Inspiron i7512-7512GRY delivers.
I G R Snapshot:
15.6 Inch UHD (3840 x 2160 pixels) 4k LED-lit Truelife Touchscreen

Windows 10 Operating System; Matte Black featuring Gray Chassis

8 GB DDR3L SDRAM, Max Support 16GB

1 TB HDD,Optical Drive Not included

Intel Quad Core i7-6700HQ 2.6 GHz Processor (4 Core 8 Threads , 6M Cache, up to 3.50 GHz)
7.
ASUS ROG Zephyrus S Ultra Slim Gaming PC Laptop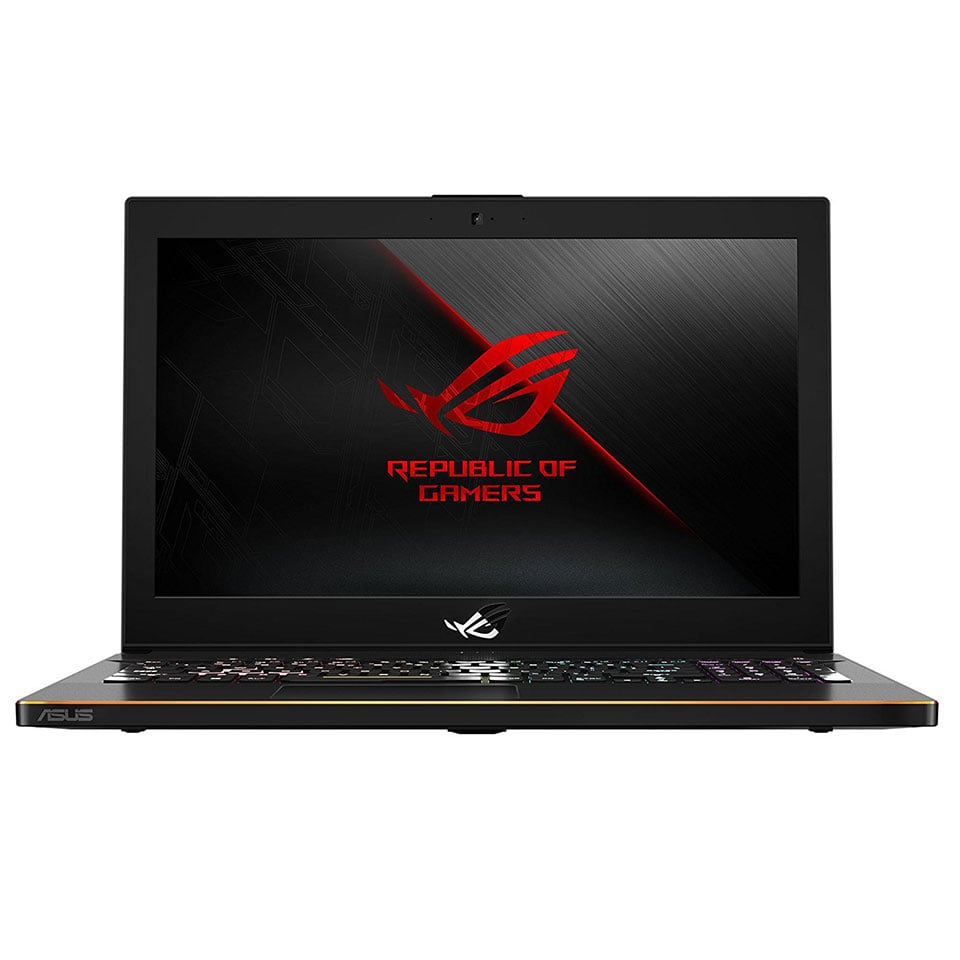 Asus' Rog Zephyrus  (again)S redefines MaxQ, as the world's most slimmest gaming laptop (again). For $1300, this seductive beast comes with  a powerful 8th gen Core i7 processor  and a GTX 1070 MaxQ GPU. On top of everything else, the Zephyrus S has a nearly Flawless 15.6-inch, 1080p panel with a smooth 3-millisecond response time, furthermore speakers that will make you feel like you in a movie theater.
This pure aluminum beast is a stunning machine. Starting with the lid, Zephyrus S has a two-toned black design that splits diagonally, dividing an classy matte and brushed-aluminum coating. The Asus Zephyrus is a great buy for the price point.
I G R Snapshot:
15.6" Full HD 144Hz IPS Type Display | 3ms response time with slim 6.5mm Bezel

Nvidia GeForce GTX 1070 8GB GDDR5 *(with Max Q technology) | Base: 1101MHz, Boost: 1265MHz, TDP: 90W

8Th generation Intel Core i7 8750H (up to 3.9GHz) processor

0.62" thin, 4.6 lbs | ultraportable military grade magnesium alloy body gaming laptop with premium cover CNC milled from Solid aluminum

16GB 2666Hz DDR4 | 512GB PCIe NVMe M.2 SSD | Windows 10 Home

Rog active Aerodynamic System (AAs) | Upgraded 12V fans and anti dust tunnels to preserve cooling performance and system stability

Customizable 4 zone ASUS Aura RGB Gaming Keyboard
8.
Alienware AW13R2-10011SLV 13 Inch WQXGA+ Touchscreen Laptop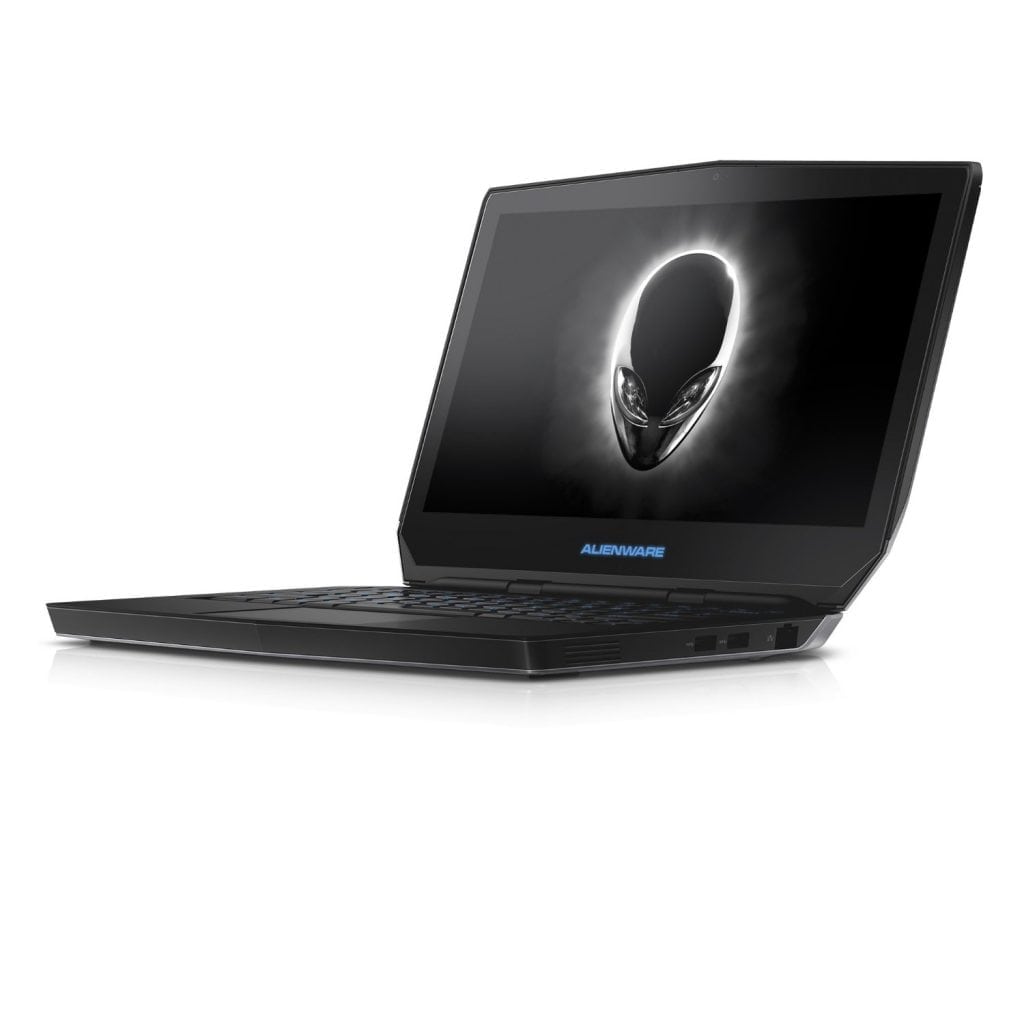 In spite of notebooks moving towards more portable with smaller dimensions, choices in the range of smaller than 15 inches is very limited at least when you are looking for a powerhouse gaming laptop. Alienware or its parent company Dell now uses the concept on a differant level with the alienware 13 R3, the 3rd duplication of the 13-inch gaming laptop.
The technology has for evermore transformed quite significantly in relations to its ancestor back in mid-2015. The chassis no longer uses an efficient ULV  processor with a TDP of 15 watts(i7-6500U 2.5 GHz Processor ). The graphics performance has improved too. This laptops does not come in cheap on our list but it's worth the money at $2999.00.
I G R Snapshot:
Intel Dual Core i7-6500U 2.5 GHz Processor

16 GB DDR3L SDRAM

512 GB SSD Storage; Optical Drive Not included

13 Inch WQXGA+ (3200 x 1800 pixels) LED-lit Truelife Touchscreen

Windows 10 Operating System; Epic Silver Chassis
9. Dell Inspiron I5577-5335BLK Metal Chassis Gaming Laptop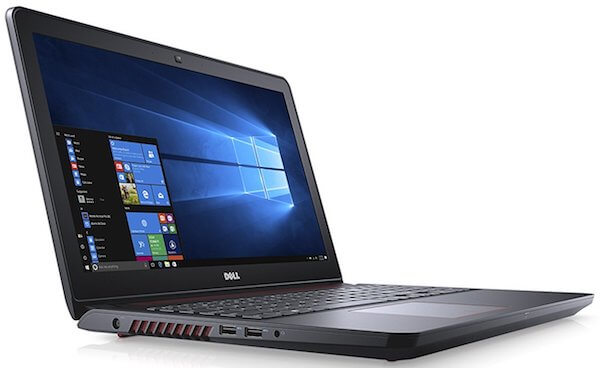 AT $800, you can get Dell's best priced gaming laptop. With an I5 up
to 3.5 GHz quad-core processor, Nvidia GeForce GTX 1050 4GB GDDR5
graphics card, 8 GB DDR4 RAM, and 256 GB SSD this laptop features the greatest specs we've seen for $800.
Additional thing that will shock you, is the display quality. It is
full high definition IPS panel with anti glare tech, it lets you view it from all angles even outdoors and still have a good time. Of
course, you get the standard Dell polish and quality look with this
gaming laptop that completes it nicely.
I G R Snapshot:
Processor: Intel Core I5-7300HQ up to 3.5GHz Processor
Graphics: NVIDIA GeForce GTX 1050 4GB GDDR5
Display: 15.6″ Full HD (1920 x 1080)
Memory: 8GB DDR4 2400MHz
Storage: 256GB SSD
OS: Windows 10 Home (64-bit)
10.MSI GP62X Leopard Pro-1045 Gaming Laptop
Both of MSI's GP62X Leopard and MSI GP62X Leopard Pro are both great products that are at rock solid prices. They come stocked with Intel Core I7 Processors and Geforce GTX discrete graphics. At about 6 pounds and 15.6 inches of screen, this are a great bundle for gaming on the move. You get a full RGB keyboard plus a 120Hz 5ms gaming grade display.
It isn't perfect, but check out these specs: Windows 10, I7-7700HQ processor, NVIDIA GTX 1050 4GB video card, 16GB DDR4 RAM, 128GB SSD, and a 1 TB 7200 RPM. For about $1000 and 1,299 for MSI GP62X Leopard Pro, you'll be hard pressed to find
anything that measures up to the GP62X Leopard. This machine is made for a hard core gaming, that i can tell you at 1,299
I G R Snapshot:
Processor: Core I7-7700HQ 2.8 – 3.8 GHz | Graphics Card: NVIDIA GeForce GTX 1050Ti 4G GDDR5
Display: 15.6″ Full HD eDP Vivid Color 94% NTSC | Resolution: 1920×1080 16:9
RAM: 16GB (16Gx1) DDR4 2400MHz | Hard Drive:
Memory/Storage:128GB NVMe SSD + 1TB (7200RPM
Special features: Full Color RGB Steel Series Keyboard | Nahimic 2
Audio/keyboardSurround Sound Audio Enhancer | True Color SRGB | Cooler Boost 4
Operating System: Windows 10. Webcam: 720p HD
11.MSI G Series GE62VR Apache Pro-606
At little over $1,000 at about 1,300 you can get MSI's latest Apache Pro606. With an Intel Core I7-6700HQ and GTX960M with 2 GB GDDR5 processor and graphics combo, there's not much you won't be able to play or do with this laptop.
A choice between a 1TB HDD 7200RPM hard drive or add an additional SSD drive for a couple a hundred more (plus a beefier graphics card). 15.6 inch screen size, 16 GB RAM, back lit keyboard, 1920 x 1080 resolution, lithium ion battery, and an aluminum black round out this machine nicely. This machine is a steal at 1,149.99
I G R Snapshot:
Processor: Intel Core I7-7700HQ Processor
Graphics: NVIDIA GeForce GTX 1060
Display: 15.6″ Full HD eDP Wide View Angle (1920 x 1080)
Memory: 32GB DDR4
Storage: 1TB HDD 7200 RPM
OS: Windows 10 Home
Now that I have come to the conclusion, I hope it helps in choosing your next piece of equipment, so if you have any questions please feel free to comment below thank you have a wonderful day.
Thank you, Mario Solomon